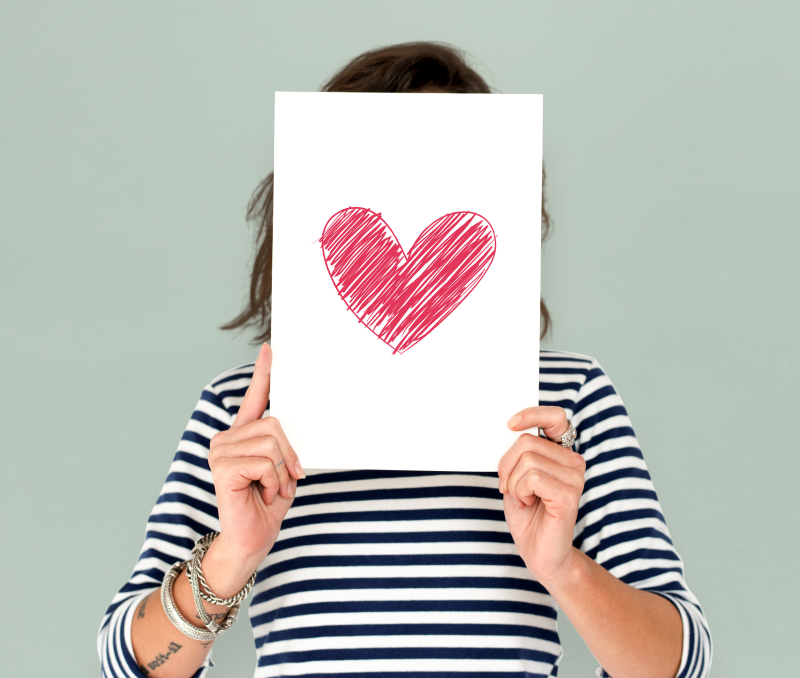 I think that most folks will agree with me when I say that this year has been challenging for so many of our friends and neighbors for a variety of reasons. As of November 2, 2020, following a full blue moon on Halloween two days ago, a high-tension U.S. election scheduled to take place tomorrow, and emotions high and raw all around the world; it isn't likely to be letting up anytime soon. So what does it mean to be a heart-centered business in 2020, or anytime things seem to be in turmoil around us, and how can we remain conscientious while trying to navigate ourselves, businesses, and families through it all? How can we continue to remain heart-centered in our business and professional interactions with others when things are hard?
Be Authentic
One way that you can remain heart-centered in your business through difficult times is to be authentic to your own truth and experience. Be yourself and build your brand around who you are and what you stand for. If you're a private person or struggle to put yourself out there as 'the face' of your business, work on getting comfortable with taking a few strategic baby steps toward building your client relationships in ways that suit you and your business type. There are so many ways to build authentic relationships with your clients, customers, and followers- some that might ask you to step outside of your comfort zone to varying degrees to accomplish. You don't have to do what everyone else is doing- as a matter of fact, that's the whole point! You're the best person to run your business and you are more than enough just as you are. Let yourself be seen! Brainstorm some ideas on how you can create consistency and personality for your brand and then implement and weave those ideas into your business 'voice' and presence day after day.
Hold Space
To hold space for someone means that you are willing to be physically, mentally, and/or emotionally present for them when needed. If your client or customer is sharing their heart with you, holding the space for them to express what they're going through is an appropriate and empathetic response- especially in times like this. Now don't get me wrong, you probably shouldn't get emotionally involved in anyone's drama and I'm certainly not suggesting that you allow yourself to become a sounding board for a bunch of random people… but being open and available to hold space for those select clients who trust and feel comfortable enough to share with you is good practice for everyone. Holding this space may look like deep listening, allowing the conversation to flow naturally without cutting it/them off, and practicing loving kindness with a thoughtful, judgement-free response.
Take Inventory of the Good
It can be too easy to get wrapped up in overwhelm when the whole world feels like it's going off the rails around you. If you find yourself spiraling into the negative, make it part of your daily routine to stop and take inventory of all the good going on for and around you. One routine that I've developed through the years is to write 5 things that I'm grateful for in a daily gratitude journal every morning. They don't have to be big things or grand achievements or even anything that you'd share with others. Maybe yesterday was super hard and this morning you're just glad to be willing to try again… so write it down and bless it! Look at you doing the thing! If you find yourself struggling to find reasons to be grateful, slow down, take several deep breaths and try again. Your reasons don't have to look like anyone else's and this is a private activity so feel free to really show your heart without fear of judgement. The longer you practice feeling grateful and noticing all the big and small things that you have to be grateful for, the easier they will come and the more things you'll find that you have to feel that way about.
TIP: You can also adjust your daily list to be a better fit for you by writing something different like: 5 things you kicked butt at yesterday or 3 ways you meet or exceeded your business or personal goals. Make it fun and switch it up if you like variety!
Being a heart-centered business in 2020 means that you are willing to show your heart through your business dealings so step out and just do it!

-Jenni C.
Go the Extra Mile
Going the extra mile for your clients doesn't have to big production or include grand gestures. Little things mean a lot too! Send that quick follow up message! Reach out to your customer following their first or fourth purchase and let them know that you appreciate it and them. Send a quick thank you card with your package or a free coffee code following an online order. It doesn't take much to "go the extra mile" for your customers when you consider that they probably aren't expecting anything at all and the unexpected blessing will bring some peace and joy to their day. Being a heart-centered business in 2020 means that you are willing to show your heart through your business dealings so step out and just do it! This is also another opportunity to brainstorm some ideas on how to be authentic and build your presence through how you decide to go the extra mile and show yourself to your customers.
Take Care of Yourself Too!
As a busy homeschooling mom of two toddlers and a teen, you don't have to tell me that self-care often feels like a luxury that our limited free-time tells us we just can't afford. A hard-won lesson that took me way too long to figure out is that while some people might try to tell you otherwise, self-care isn't just about long silent bubble baths and having an entire evening to yourself. I couldn't have those things now even if I tried- and maybe you can't either- but what we can have are warm sips of our favorite coffee/tea or chocolate chips on our pancakes and beautiful moments of sunshine and grounding in the front yard. We can meditate, let our minds wander through joyous and happy thoughts, take a few moments to enjoy the cat purring in our lap, or watch a favorite television program after everything is quiet for the day. Sometimes self-care looks small, especially for busy moms and business owners. Take what you can get and enjoy each of the moments you carve out to the fullest to help recharge yourself and your heart-centered business.
There's no question that this year has been different when it comes to how many of us run and share our businesses with the world. Every day brings its own challenges but there are things that we can do to make it easier on ourselves and those that we work with. Thank you for stopping by and being receptive to my message.
Sending love from my heart-centered business to you and yours! <3
-Jenni C.