We work with small business owners 1:1 to build beautiful, functional, and high-performance WordPress websites tailored to the specific needs of each individual project.
Our websites are expertly crafted to guide your visitors on a journey through experiencing the essence of your brand and offerings in digital form – a true representation of your unique business online.
SEMI-CUSTOM MADE TO MATCH WORDPRESS WEBSITE THEME
$

379.00
ONE TIME + ONE MO. FREE HOSTING
We'll design a semi-custom WordPress website for your business made to match your logo and/or theme colors using the Astra Pro theme as a framework. One major integration, such as eCommerce functionality, is included.

PLAN OUTLINE:
-A semi-custom website using the Astra Pro theme as a framework designed to match your logo and/or brand colors
-Formatting of up to 3 pages: home, contact, and FAQ, About Us, or Info
-Basic on-page SEO advice
-Email marketing and social media integration
-Add-on a professional brand consultation and simple custom logo design for only $220

M2M TEMPLATE CUSTOMIZATION + 5-PAGE WORDPRESS SITE
$

1297.00
ONE TIME + ONE MO. FREE HOSTING
Bring your own branding and color palette and we'll use them to create a beautiful and functional simple 5-page WordPress website using a premium templating framework. Includes one major integration and lifetime theme updates.

PLAN OUTLINE:
-Complete customization of your Astra Pro theme using your unique brand design + colors
-Formatting of up to 5 pages including: home, contact, FAQ, and two more of your choice
-Basic on-page SEO support and implementation
-Email marketing and social media integration
-Step-by-step video tutorials to help you take over the website when you launch
-Includes one major plugin integration such as eCommerce or learning platform

FULL SERVICE WORDPRESS DESIGN + DEVELOPMENT
$

3497.00
ONE TIME + THREE MO. FREE HOSTING
A full service website customization experience that includes as many fully formatted pages, features, and plugin integrations as needed to bring your vision to life. Investment begins at $3797. Let's chat about you ideas!

PLAN OUTLINE:
-Includes complete template customization for your brand typography and colors
-Formatting of as many pages as you need, using your own content and images
-Expert whole site on-page SEO advice and implementation
-Integration, setup, and hands on support for of all of the plugins you need for site functionality
-Includes three months of Extended Managed hosting to guide you beyond launch day
Think you might like to build your own website with help from a mentor instead?
Only $197
Limited Time Deal!
You are 100% capable of building your own website! We'd love to support you on your journey. Our DIY Web Design Mentorship package includes best effort ticket system assistance and support from strategy to launch. You hold the vision and take the lead on your project while remain available to make sure that you're on the right path every step of the way.
Includes one month of FREE Basic Managed WordPress Hosting.
We Will:
Install and configure the latest version of WordPress, your specific general settings, and all necessary security and functionality plugins.
Use our Astra Pro agency license (a $249 value!) to allow you access to a strong, secure, and award winning easy-to-customize theme for your WordPress website.
Setup and link your simple [or single level drop down] primary and footer menus.
Create and test your Contact, FAQ, and Site Reviews pages and prepare them for your content.
Activate and implement of one major plugin like: WooCommerce, Amelia, or Learn Dash.
Ongoing best effort ticket system support while you customize your theme, add and format your pages/products, and content.*
Celebrate your wins, educate, and encourage you to feel confident as you take on this task!
You Will:
Commit to taking on the challenge and sign up for a web design mentorship through the link above [or contact us first for a more personalized experience].
Choose your template-based layout from a selection of over 50 preformatted designs.
Allow us up to 24 hours to configure your new WordPress website and sent over all admin access details.
Take the confident lead on your website template customization by asking questions, seeking answers from multiple sources, and trying new things!
Reach out to our team through support ticket to begin the conversation and ask for help, support, tips, and more to create the website of your dreams. We'll offer lots of advice along the way, too!
Celebrate your W when you launch an amazing website on your terms and on your schedule!
*Ongoing best effort support includes: answers to your incoming support ticket questions in the form of written step-by-step instructions, short customized video tutorials, links to YouTube videos and/or online discussions that are relevant and useful, or redirection back to the individual plugin developer with support on what to say to get support and with following the steps they suggest for resolution.
We have been supporting small business owners in the design, development, hosting, maintenance, and service of their small business websites for over 15 years and in that time we have become literal experts in supporting the unique needs of online business owners and also those brick and mortar business owners who are ready to make an impact in the online world.
Any web designer or developer can create a general purpose website, but can they help you with a strategy to help your business grow?
We're Experts at WordPress Web Design and Development for Small Business
We've been supporting small business owners (and the websites behind them) since 2007.
Our team is dedicated to creating small business websites that convert lurkers and followers to dedicated, loyal, and satisfied long term clients and customers.
We build websites that work for you 24/7 and look good doing it.
We strive to make the process of building and managing your own small business website a pleasant and empowering process. You choose how much involvement you want to have with the technical and maintenance tasks of your website – and leave the rest to us!
We Exclusively Design WordPress Websites for Small Business Owners
We have been supporting small business owners in the design, development, hosting, maintenance, and service of their small business websites for over a decade and in that time we have honed in and specialized in supporting the unique needs of online small business owners and also those brick and mortar business owners who are ready to make an impact in the online world.
Our small business and WordPress expert design team will work with you 1:1 one on one to build the site of your dreams and teach you about all of the things you'll need to know to keep it functioning at its best for years to come.
We are experts at supporting small business owners because:
We're small business owners. Every member of our staff is an online small business owner so we understand the needs of a small business website.
We meet the definition of experts! We've specialized in and worked exclusively with online small business owners for the past 15 years.
Small business website hosting. All of our web hosting plans have been put together with the small business owner in mind.
Professional, experienced development team. We've worked with thousands of small business websites (and their owners) and we know what works.
Affordable Small Business WordPress Website Design
We believe that a website that checks all of the boxes and showcases your offerings in a way that is authentic to your brand and engaging for your visitors doesn't have to be so expensive that it's out of reach.
There are a few strategic reasons why and how we're able to keep our prices affordable for you. They are:
01.
Strong Foundation
All of our WordPress website customization, design and development projects are built using professionally coded framework to ensure web standards and high-quality performance.
02.
Everything in-House
We're able to keep costs low because we do not outsource anything, instead you'll work with and receive support from the same person from start to finish on every aspect of your custom design or website project.
03.
Streamlined Process
With thousands of clients serviced over the past 15 years in the website business, we have streamlined our design process and customer service experience to suit your needs and work on your timeline.
---
You focus on what you're good at (running your biz, of course) and we'll focus on what we're good at: Building you a WordPress website that exceeds all of your expectations!
We can save you money and cut costs on our small business website customization and design packages because we leave the theme coding and framework implementation to our partners who are good at it. All design and development projects are built using the WPAstra Pro theme (a $249 value!).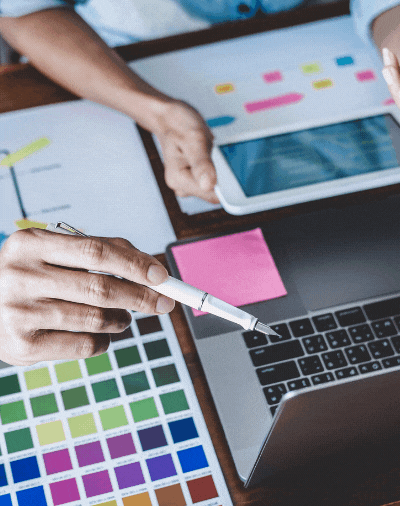 Beautiful + Functional
Sure, pretty websites are nice to look at but so many beautiful sites lack the essential elements that make websites work and convert visitors to engaged purchasers of your small business offering.
Ready for a website that performs as great as it looks?
Basic WordPress and Theme Customization Development Package
Basic WordPress or Basic Plus Overview:
Includes 1:1 setup and theme customization
You provide all keywords and content
Security and essential plugins implemented
Social media, newsletters, and pixels connected
Includes 1/mo Basic Managed Hosting FREE!
Add PLUS package with eCommerce capabilities or other major integration (like LearnDash or Easy Digital Downloads) and setup of up to 5 examples for the plugin (ie- products with attributes) for only $200 more!
A 1:1 website customization package that includes full setup of your theme, integration of both essential and core functionality plugins, and formatting of up to 5 pages of your own prewritten content. Upgrade to a Plus package to include integration of a major plugin like WooCommerce, Easy Digital Downloads, or LearnDash with setup of up to 5 items or products including attributes.
Each step of the customization process involves your direct input and we are careful to ensure that you are comfortable and confident with the steps necessary to take over the project when the time comes!
With this package, we'll work closely together to create a solid and fully customized WordPress website ready for visitors and interaction on your first day of launch! This packages includes 1/mo Basic Managed Hosting FREE!
If you've been thinking about building your own WordPress website but aren't sure where to start or what all you need to end up with a beautiful and fully functional website, our Basic WordPress Design and Development package may be for you. Our team will work with you 1:1 one on one to build the site of your dreams, and teach you about all of the things you'll need to know to keep it functioning at its best for years to come. This package is also suitable for clients who have a current website online and would like additional support to launch a new or updated version using the popular WordPress website platform.
Purchase a Basic or Basic Plus WordPress Customization Package If:
You desire a website that will give you the functionality and look you need from the start, developed with 1:1 support.
You're new to WordPress and would like to have dedicated support to set up, develop, design, and launch your new website.
You have an idea for an eCommerce or Informational website but aren't sure where to start with building.
You're ready to modernize a current site or launch a brand new one to suit your business ideas.
Basic WordPress + Theme Development Summary:
TL;DR? You have two options with this package: Basic, which includes a 1:1 theme customization process, essential and functional plugin setup, formatting of up to 5 pages of your provided content, and video tutoring or Plus, which includes all of that PLUS implementation of one major integration like WooCommerce or LearnDash and up to 5 complete examples and video tutoring for the plugin.
---
Advanced WordPress Website Design and Development Package
An Advanced WordPress design and development package is a full service website customization and setup experience, carefully put together for small business websites that: require multiple major integrations (ie: WooCommerce, and LearnDash), have or want more than 5 website pages formatted, or anticipate that their unique needs will exceed a Basic WordPress design package.
These packages have an affordable base price of $2197 and can be customized to suit the needs of your small business. With an Advanced package you'll get everything mentioned in the above packages, plus: we'll assist you with brainstorming for website strategy, crafting of the visitor journey, formatting and weaving together of your website content. Optional addons include full service marketing and SEO, additional page formatting, and product entry.
Advanced WordPress Highlights:
Full service design and development assistance.
Advice and assistance with SEO, keyword research, and copy tone.
A development package that has all of the basics with room to expand.
Customized for the needs of small business websites.
Help with multiple or complicated site integrations.
Secure your spot today by putting a down payment on an Advanced WordPress Design package or let's chat about your ideas and how we can help you to bring them to life! This packages comes with 3 months of Basic Managed hosting free!
Purchase an Advanced WordPress Design and Development Package If:
You have big ideas and are looking for help pulling them together in digital form.
You're looking for the type of 1:1 support for building your website that you'd expect from a professional firm.
You want to feel encouraged and supported from 'just an idea' to website launch.
You know that your dream site is going to involve some technical details that you don't have the time or desire to research or learn.
Advanced WordPress Design + Development Summary:
TL;DR? An Advanced package is custom designed for each project but in general, includes everything you need from implementing your idea to launch including support with finding and implementing plugin functionality, and SEO and copy content. A true premium website customization and development experience!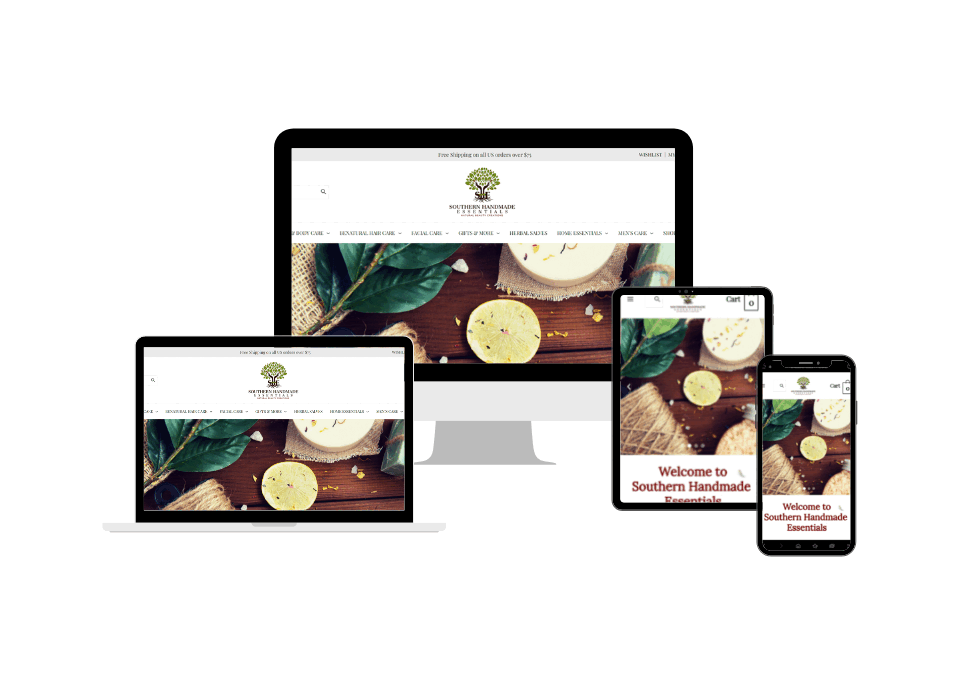 P.S. Your Site Will Look Great on Any Device!

Our websites are always 100% mobile responsive.
Your new website will look and function great on any device!
The foundation that we build on is regularly updated and exceeds all current web standards.
Frequently Asked WordPress Website Design and Development Questions:
We'd love to design and develop your small business website!
We've worked with thousands of clients over the years and have developed many hundreds of eCommerce and Informational websites for our amazing clients and we'd love to work with you too. All WordPress website design packages include direct, one on on support to pull your branding elements and ideas together and also to walk by your side as you take the lead through the WordPress learning process. Each small business website design and development package includes at least 1 month of Basic Managed WordPress Website Hosting as a free bonus to maintain that level of support following the design process.